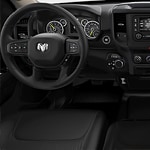 The new Ram 1500 is not only built to be a powerful work truck. It is also designed to offer you premium safety on every journey. Find out what safety designs come standard with the all-new Ram 1500 today.
To start, it comes with adaptive cruise control that lets you keep up with traffic. This feature allows you to maintain a steady pace and avoid excessive speeding up and slowing down. It enhances your fuel economy and gives you solid performance on both city and highway driving.
It also comes with a rearview camera that lets you see behind your truck. You no longer have to look over your shoulder to see if there is anyone or anything in your path. The camera gives you a panoramic view of your truck's rear and lets you adjust your driving as necessary. It also allows for safer towing of trailers.